IC5146 – Cocoon Nebula
Small silky ball laid at the end of a dark footpath, between Cassiopea and Cygnus, the small Cocoon Nebula glows with soft red and mauve colors in a sanctuary of stars.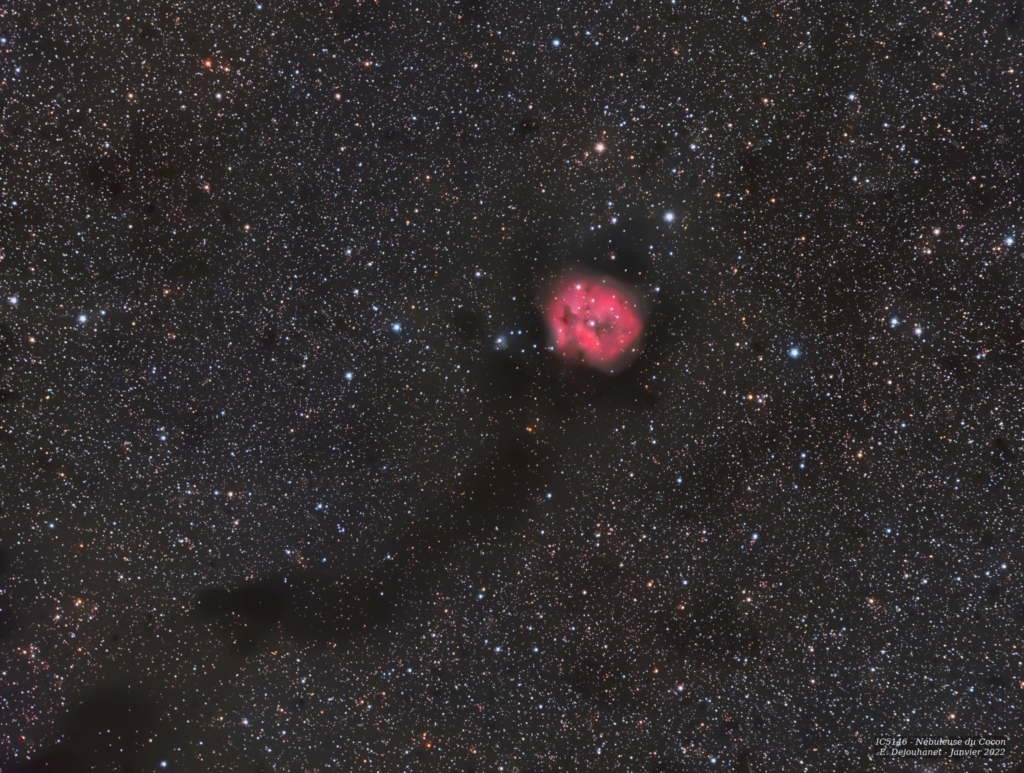 This lovely object, catalogued IC5146, Sharpless 2-125 or Caldwell 19, is a hot emission hydrogen cloud where young stars are nursed. Their own light reflects as well in the nebula, producing this pastel mix of red and violet. The dark nebula trail, catalogued Barnard 168, is an amazing companion.
Cocoon is a relatively small structure: fifteen light years, and is situated at approximately four thousands light years from us.
During January 2022, I cleaned the telescope lens to attempt to fix an issue on my blue frames, whose nearly saturated stars have strange fish shapes. As a result, and because I was never really satisfied with focus quality on the Hydrogen optical path in 2021, I spent an evening recalculating filter offsets. In order to validate my changes, I very briefly captured this target during what would be the single clear night of the month… Ninety minutes equally distributed between sixty-second Red, Green and Blue and five-minute Hydrogen frames. As a result with so little data, post-processing was largely focused on reducing background noise, and the result was just amazing.
With the RGB frame combined and calibrated with PhotometricColorCalibration, I used the excellent StarNet (v1) to extract stars. With Cocoon masked, I spent some time experimenting with TGVDenoise and MultiscaleMedianTransform tools to preserve the dark nebula path. As usual, I deconvoluted and increased the saturation of stars separately. I delicately increased the contrast in the cloud using the Ha data, and pushed saturation just enough to have the violet tones appear before merging stars back with PixelMath. Finally, I cropped the image to move Cocoon at a nice position, preserving as much dark nebula as possible.